Old General Store
[
]
The Old General Store is a gas station and consists of two buildings facing the gas pumps. The entrance to one building is blocked by a truck. There are a few cars and a truck(called semi-truck).
Location
[
]
Location is found on the 283, north of the shelter and a the alley.
Resources
[
]
There is a varied amount of loot to find, but most of all there is fuel.
Notable Loot
Doors and alarms
[
]
There are no alarms.
The door into the second building, the one that has the front entrance blocked with a truck has a rating 80 door that can be opened at least with a Mechanical skill of 6.
Enemies
[
]
*Spoilers*
[
]
Two looters are in building facing the gas pump.
Looter Sentry (hunting shotgun).
SMG Looter(armed with a SMG).
Two Looter are outside other building, either to the left or back.
Fast Looter(Snubnose)
Looter Marksman(armed with a level-action rifle)
Three are inside the building that has the truck in front.
Looter Thug(snub nose).
Female Looter(snub nose).
Experienced Looter(SMG).
Remarks
[
]
Shooting has a small chance of spawning zombies.
Trivia
[
]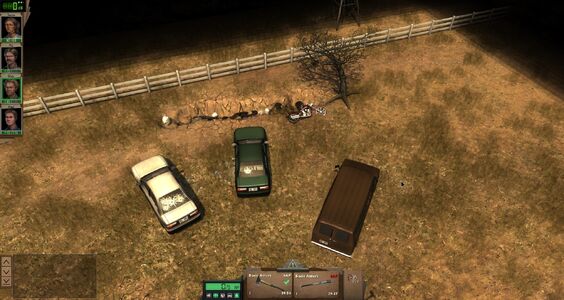 Notes
[
]