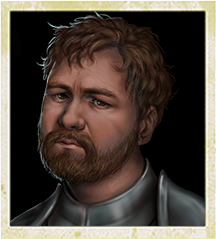 Sir Charleston believes he's a knight in a fantasy kingdom, and the undead are demons that have taken over the land. However, this is only the persona of a man living in a fugue state. Who he is - or was - and whether or not to try and bring him back to his senses is a decision for the player to make. After saving him, he tells you that he was from a gated community that caught word of the emergency shelters being full and instead fortified the gated community before it was ultimately overrun by zombies. In desperation he turned into Sir Charleston and fought his way out with his armor protecting him from zombies who attacked him.
Recruitment
[
]
Sir Charleston can be found in a random encounter.
Events
[
]
On his first day in the Shelter, Sir Charleston will pledge himself to the service of "Castle Splendid."
After 1 week, he'll complement Max Getz on his fighting skills, but Getz will snap at him to stop living in a fantasy and leave the conversation. You can support Sir Charleston's fantasy, ask him to stop, or call the both of them crazy.
After 1 week, Sir Charleston will tell you about a "strange dream" he had and asks for your help interpreting it. No matter what you say, he'll resist the implications and leave. If you tell him to leave before he has a chance to speak, he'll receive a Mood penalty and leave.
At 10 days, Sir Charleston will suggest finding some horses (if there aren't any at the Shelter).
At 2 weeks, him and Priscilla Butler will be having a conversation. She will excitedly tell you about how he's been telling her fantastic stories (giving her a Mood boost).
At 1 month, Sir Charleston will admit he has a crush on the "Warrior Empress," Regina. If you tell him you'll talk to her, he'll receive a Mood boost and later on you'll see them talking (resulting in a Mood penalty for Regina and another Mood boost for Sir Charleston). If you have a Negotiation skill of 5 or more, you can convince him to give up his affections (Mood unaffected). If you dismiss him, he'll receive a Mood penalty.
After 1 month, Sir Charleston will ask to "reclaim the kingdom of Mingolf" (revealing the Minigolf Castle location). If you take him there and clear out the undead, he'll notice that something is wrong, and you have an opportunity to either let him continue his fantasy world mentality or make him realize who he really is. If he realizes his true identity, he'll ask to go back to Splendid to recover. The next day, he'll begin speaking in a normal voice, and introduce himself as Carlton Harriets, a former programmer. This will have an impact on his personality, stats and skills.

After the second day Carlton is himself again, he'll admit he figured out a way to smith Sir Charleston's armor, gaining the "Armorer" trait and unlocking the method to create Plate Armor.

If Carlton's morale is too low, he will leave the shelter as Sir Charleston.
Sir Charleston (Not Carlton) will aid in the defense during the plane and bus escape.
Special Requests
[
]
Luxury Items
Upgrade
Stats
[
]
See also Ally Stats.
Survivors develop their skills over time, these stats represent their starting point.
| Health | Action Points | Armor Class | Strength | Agility | Vigor | Perception | Melee | Ranged | Leadership | Negotiation | Medical | Science | Survival | Mechanical |
| --- | --- | --- | --- | --- | --- | --- | --- | --- | --- | --- | --- | --- | --- | --- |
| 150 | 8 | 4 | 7 | 3 | 9 | 3 | 4 | 1 | 1 | 1 | 1 | 2 | 2 | 4 |
| 160* | 8 | 4 | 7 | 3 | 9 | 3 | 4 | 1 | 1 | 1 | 1 | 2 | 2 | 4 |
The second row's figures are his stats when he is brought to his senses that he is not Sir Charleston but Carlton Harriets. Asterisk is typed after the figures that change.
Sir Charleston will focus on Melee, Leadership, and Survival, and later develop skills in Ranged. His stats will focus on developing Strength almost exclusively, with another point to max out his Vigor.
Carlton Harriets, on the other hand, focuses on Mechanical and Negotiation skills, then picks up points in Science and Medical. His stats grow in Perception and Agility.
Traits
[
]
Initial
Noble Warrior: "If an ally drops below 15 health in the field, Sir Charleston temporarily gains an extra 2 points of Strength and Agility."
Rock Solid: "This ally enjoys having a Stone-Reinforced Fence around the Shelter, and will gain a one-time mood boost after it is completed."
Gained Via Conversation
Armorer: "With Carlton brought to his senses, he has managed to teach others at the Shelter to create Plate Armor."
Play Style
[
]
Sir Charleston has high Strength and Vigor, but his average Melee skill and late recruitment date may make him less suited to combat than other allies. However, with his custom suit of full plate armor makes him completely immune to all zombie attacks and extremely resistant to human melee attacks, and there is no character better suited to fighting the undead.
Carlton Harriets is not well-suited for the field due to his low pain and terror threshold, but his focus on Mechanical skills can be valuable to the Shelter.
Both Sir Charleston and Carlton will react negatively to killing neutral survivors.
Trivia
[
]
Age: 38
Hometown: Austin, TX
Sick Event: back pain
Subleader Supported: Regina
Shelter Location: Sir Charleston: Outside Shelter, near sign; Carlton Harriets: First floor, library in front of bookshelf closest to car in parking lot.
While Sir Charleston doesn't seem to get sick, Carlton Harriets can.
The fantasy land of Sir Charleston's imagination - "Scotsylvania" - is a reference to Britannia, the setting of the Ultima series of games.
Sir Charleston's armor is a replica of 15th century English tournament armor, inspired specifically by the work of professional armorer and jouster Jeff Wasson.
It is unknown if the infected can inflict any damage on Sir Charleston at all while he is wearing his armor. This has been tested with hundreds of infected NPCs, all of whom were unable to deal a single hit point of damage even when he is surrounded and knocked down.